PVM's 75th Anniversary Virtual Un-Gala
Serving Michigan's Seniors for 75 Wonderful Years
Nov. 19th marked the date of PVM's 75th Anniversary Un-Gala. The goal was to have a celebration of 75 years in the making and raise $150,000 to purchase PPE. The celebration was different than first planned by going virtual (aka the un-gala) but it was an event to remember. Not only did we celebrate our Residents, Staff and Donors, but the un-gala raised $158,000…that was $8,000 over the goal! Thank you to our caring and generous donors for making it happen!
If you missed the un-gala or you want to watch it again just click on the link below.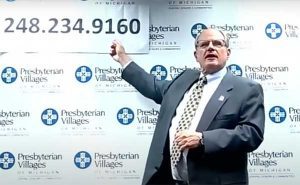 During the Un-Gala we heard about some of the wonderful people that helped build PVM into 32 locations throughout Lower Michigan. For example, Clarence D. Sterling started it all off with the first donation to purchase the land at The Village of Redford in 1945. During the event, current Village board member Karin Flint told the story of how her mother got the Village of Hillside and Perry Farm of Harbor Springs built after learning of a friend who had no place to live as a senior adult. 75 years of celebrations just like Karin's were shared.
At the center of PVM's Mission is always the older adult and the talents of a few were highlighted during the evening. The Un-Gala had David Simpson, a resident at Thome Rivertown of Detroit, providing the entertainment with his two sons with a great rendition of Earth, Wind and Fire's "September". Also Alberta Schuler from The Village of Westland was the bartender for the night, pouring a festive cocktail. What a perfect way to kick off a party with a tasty beverage!
The event was capped off with a $5,000 lottery drawing from over 900 tickets. The lucky winner was the daughter of a resident at The Village of East Harbor. She is having a Merry Christmas!
PVM's 75th Anniversary Gala was night to celebrate. Thank you for attending, donating and making PVM the organization that we are today and as Former Mayor of Detroit Dennis Archer said in his opening remarks, "Here's to the next 75 years!" 
Hope to see you at PVM's Formal Gala
on Oct. 1st, 2021 at the Dearborn Inn!