Helen's Home was Her Car! You Gave Her a New Home at The Village of Warren Glenn.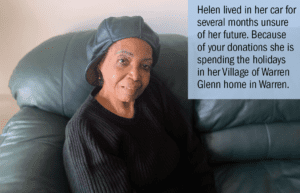 Sadly, Helen Crocker's story is not unique. At 73 years old Helen could not find housing she could afford. Regretfully, she ended up living in her car in a parking lot of a local grocery store.
Your donation offered Helen a new path. A path that included a new home, new friends, new found dignity, and new hope for her future.
Helen Crocker's life was turned upside down after the sudden deaths of her husband and father. Mourning the passing of the two most important people in her life was even more difficult as Helen faced her new reality.
Helen's financial situation was grim. She was left with very, very little income and an apartment she could no longer afford. Furthermore, Helen did not have any local family support. The closest relative was a brother in Florida.
"My husband, my dad, and I all lived together. It was wonderful. They handled the money matters. I was shocked to learn how little I really had on my own,"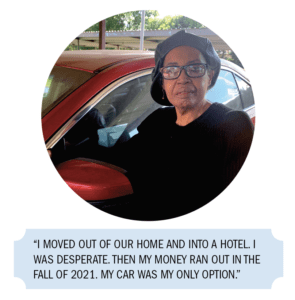 said Helen. A very small Veteran's pension from her husband and a meager amount of social security was all she had to live on.
As the seasons turned from summer to fall, Helen found herself sleeping in her car during those cold autumn nights. "I lived in the parking lot of local grocery story. The staff there were good to me."
Things couldn't get any worse, right?! Well they did. Her car needed significant repairs. Years of deferred maintenance on the car came due.
As winter approached things needed to change quickly. She found temporary residence at a shelter where she learned about PVM.
Helen's husband was a proud Veteran. PVM has a Veteran's preference program, which allowed her to move into The Village of Warren Glenn immediately and have subsidized housing she could really afford. Without this preference Helen would be looking at a 2-year wait. A wait time she did not have.
What happens to others like Helen who are looking for low income/subsidized housing but are not Veterans? "It's tough, they have to look at other options. A family member, a hotel, or something else. Not a good situation. The waitlists are way too long. It is so heartbreaking," states Stacey Klooster, Administrator of the Village of Warren Glenn.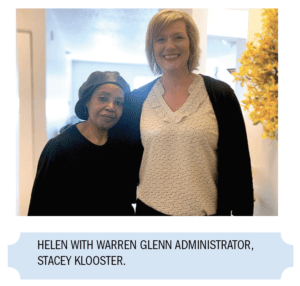 Donors to the rescue! Because you make the decision to donate, PVM is in the process of adding 1,200 new affordable housing options in Pontiac, Westland, Port Huron, and Flint. 1,200 new housing options for someone just like Helen who faces desperate times.
Helen has found her groove and is loving having a place to call home. She has made many friends and has been involved in the Village Rummage Sale, participated in three events at The Village Victory Cup competition, and helped out at the Resident Thanksgiving Dinner. She's looking forward to the Holidays with her new family and in her new home thanks to your donations.
Your donation turned Helen's life around.