Sister Edith Has Listened to Many Prayers
You Heard Hers When SHE Needed Help
Sister Edith Martinek is an 89-year-old resident at The Village of Hampton Meadows in Bay City. For 70 of those years, she has dedicated her life to serving God and putting those in need first.
In 2019 she REALLY needed your help. Your thoughtful donation to the PVM Foundation gave Sister Edith a new home that she could truly afford and let her continue her work of serving others in the greater Bay City community. THANK YOU!
Enjoy learning about Sister Edith's life work and her path to PVM's Village of Hampton Meadows, a partnership with Wellspring Lutheran Services. Your spirit
will be filled after reading it!
In 1952, at the age of 18, Edith Martinek took a different journey than many others her age. "I told my father I was called to serve God and wanted to become a nun. He asked me to wait a year, so I did. At 19 my mind had not changed. I was ready," says a prideful Sister Edith.
Edith went to the Sisters of the Servants of the Immaculate Heart of Mary in Monroe, Michigan. After 6 years of study, she received an elementary teaching certificate. She taught kindergarten and first grade for 36 years. The majority of her teaching was in the inner cities of Michigan with some experiences in Miami and Minneapolis as well. "I was called to Miami to teach English to Cuban children. These children were refugees thrown out of their country."
After 36 years of teaching, "I tied the millionth shoelace of a student and said to myself this is the last shoelace I will tie. It's time for my next chapter of serving others."
Sister Edith moved to the mid-Michigan area to provide Pastoral Care. "I loved the work and being directly connected to the church. I did this for 14.5 years," says Sister Edith with a big grin.
At 77, she came to Bay City to be a full time volunteer at McLaren Hospital providing spiritual guidance for individuals in hospice care. If that was not enough she also answers phone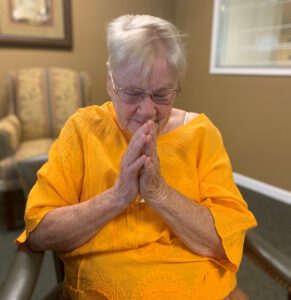 calls for the local United Way and continues in both of these roles today. Service to others will always be Sister Edith's guiding light.
"Each day I provide the spiritual care for those facing their last days, weeks or months. It is so special to spend those precious days with them. It fills my heart to serve them."
In January of 2019, Sister Edith was dealt a big blow. "With very little notice my rent had tripled. I had one month to find housing that I could afford. The $670 per month I get in Social Security wouldn't be nearly enough."
Although she receives a bountiful amount of daily rewards, her life's work of serving and caring for others did not come with a large paycheck or a retirement pension to rely on. She was facing homelessness.
Luckily a friend from church knew of The Village of Hampton Meadows, which provides affordable housing for low-income older adults.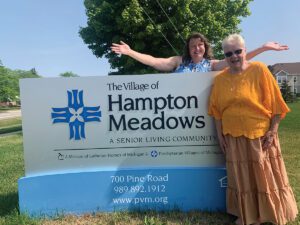 "My prayers were answered! I met with Stephanie Cooper, the administrator, and a few weeks later I moved in. I would have been crushed having to leave my spiritual care work in the community I call home."
"Thank you donors! Your gifts created an opportunity for me to live in Bay City and continue meeting the needs of people facing their last months." Sister Edith said with a tear in her eye.
Sister Edith has really made the most of her Hampton Meadows home, making lots of new friends and enjoying many wonderful experiences including the weekly Bible study group she leads.
Sister Edith's path to Hampton Meadows was a smooth one. This was very fortunate, but not common.
"Edith was lucky. Typically The Village of Hampton Meadows has a 6 month waiting list. Routinely, I get calls from older adults living day to day in hotels, checking on openings. It breaks my heart. Bay City could use more housing," says Stephanie Cooper, Administrator.
Your donation to the PVM Foundation allows PVM to build wonderful affordable housing for people just like Edith. Older adults that live exceptional lives, and do so much good but can't afford housing without some assistance. When it was her turn to need some support, you were there!
Your donation matters! Thank you.