Your Donation Opened Up a New World for Dan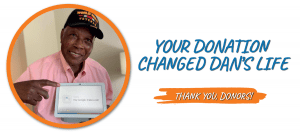 "It wasn't easy," Dan Odom a 96 year old resident says about being quarantined in his 540 sq. ft. apartment during the pandemic. Yet, because of you, the donor, PVM was able to give Mr. Odom and many other residents a computer tablet to stay connected with his loved ones during those long months.
Your donation gave this 96 year old resident a new lease on life and changed Dan's life in so many positive ways. We hope you enjoy this story of challenges faced and challenges met.
Mr. Odom has lived at The Village of St. Martha's in Detroit for 3 years. He moved there after living at his home in SW Detroit for over 60 years. "Too many stairs to climb," says Dan. That was the driver to move.
From day one, Dan got involved at St. Martha's. Originally from Georgia, Dan would cook up his favorite down home recipes for the residents. Peach cobbler, pound cake and even baked a sweet potato pie for a Southern Thanksgiving Dinner. Dan was having fun and enjoying each day with all of his new friends at the Village of St. Martha's.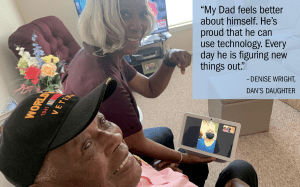 Then COVID hit. Dan went from lots of social activities to being shut-in, by himself for over 3 months. No family, no friends, no church services, nothing. His daughter reflects, "The only human contact he had was when I would come over for a moment with groceries."
Dan was fortunate up until COVID because he was active and socially engaged. However, isolation and loneliness are real problems facing so many of us as we age. COVID just made matters worse for so many who are already feeling alone.
In 2020, the National Academies of Science, Engineering, and Medicine issued a report on social isolation and loneliness. The report stated that: "43% of adults aged 60+ report being lonely."
According to an American Cancer Society Cancer Prevention Study II researchers reported that social isolation increased the risk of early death. The research really shows that the magnitude of risk presented by social isolation is very similar in magnitude to that of obesity, smoking, lack of access to care and physical inactivity."
Your donation to rescue! The Village of St. Martha's, in Detroit was able to offer complementary Wi-Fi and Google Nest tablet computers to their residents (thank you donors!). This allowed them to be able to connect with loved ones and virtually travel the World from their homes.
That is when Dan picked up a computer device for the first time in his 96 years. "It opened a new world for me. Attending church, talking with my pastor and the best of the best- spending time with my great grandchildren," states Dan. His days in quarantine prior to using his tablet were spent just watching TV alone.
His daughter reflects, "My Dad feels better about himself. He's proud that he can use technology. Every day he is figuring new things out. In the past he was leery of technology and shied away from it."
"Google is my friend! I ask it a lot of questions. Life is a lot better now. I want to personally thank each donor for the joy you have brought me," Dan says with a smile from ear to ear.
">With your donations PVM is able to provide wonderful opportunities for residents to be engaged and be involved, just like Dan.
Make a gift now and help other residents