Golden Frog Lady of The Village of Warren Glenn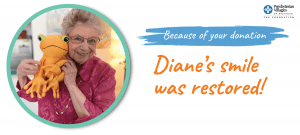 Diane worked her whole life and was eagerly looking forward to a carefree retirement with her husband. However, life had different plans and it all changed with just one word…Cancer.
"I was there for my husband as he suffered with cancer. When you love someone that is what you do," says Diane. The medical bills mounted. Diane had many tough decisions to make. She took a cash buy out on her pension to cover her husband's medical care.
Her own wellbeing and self-care like going to the dentist were now luxuries she could not afford. After his passing, Diane was left alone and fearful with Social Security as her only source of income.
Some good news came when Diane found The Village of Warren Glenn, a community that fit her budget.
Diane makes the most of her new home. She organizes and cooks the monthly birthday dinners and decorates the bulletin boards and lobby for every season. However, the Golden Frog award is probably her lasting legacy. Each month a resident that demonstrates outstanding citizenship receives the Golden Frog award.
Accompanying the framed award is a golden frog plush toy that's displayed proudly outside the resident's apartment for the month."This frog that I found at a 2nd hand store, provides so much joy. I love handing it out each month," Diane proudly explains.
While she was spreading so much joy, she was also experiencing severe mouth pain. "I was exhausted each night, and I could not really eat anything but soup," says Diane. A tough choice that had been delayed, came due. The delay in going to the dentist unfortunately resulted in the need for major dental work.
Over the course of several visits, she had to have all her back teeth pulled and replaced with partials. In the middle of the visits Ms. Sexton was involved in a car accident that totaled her car. Despite all these setbacks, Ms. Sexton has remained positive and thankful for her PVM family. "I look forward to resuming my position on the activities committee and handing out the Golden Frog. I love my Warren Glenn family!"
Ms. Sexton was faced with a new bill for $10,000 that she could not afford. Creative solutions were required. Ms. Sexton found a dental school that helped reduce her bill. However the remaining balance was still too high. When Diane found out about the PVM Resident Emergency Help Fund she applied and her prayers were answered when she received an emergency aid request.
Your donations make it possible to help a resident with unforeseen expenses, like Ms. Sexton.
"It is so nice that they have this program to help people. I never would have been able to have these procedures without it."
Donations to PVM helped pay for the expensive dental work for Ms. Sexton. Because of you any resident encountering hardship can access the PVM Resident Emergency Help Fund. Please continue to donate and support older adults when they are in peril and fearful.
Thank you!
Donations helped pay for the expensive dental work for Ms. Sexton.
It's because of donations that residents encountering hardship can access the PVM Resident Emergency Help Fund.
Make a gift now and help other residents.
Your donation is important