A long-time resident at The Village of Warren Glenn shares her story of growing up during the Civil Rights Movement
Everyone has a story…
Juanita Seller moved into The Village of Warren Glenn in 2014. "Well, I was at home by myself, my children had moved out and I just didn't want to stay there by myself", Juanita said. Juanita worked in Customer Service as a debt collector before retiring. It's a job that wasn't for everyone. "There were times when I took a dollar out of my pocket to hold their account open. I heard a lot of sad stories and stuff", Juanita added. Being compassionate and helping others is something Juanita has done all of her life.
Juanita shared her story of growing up in Birmingham, Alabama during the 1960's. "I don't understand how people would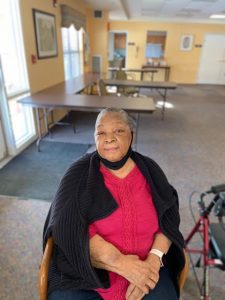 take your life for no other reason than just because you were Black "she said. Juanita was one of the young people who took part in the Civil Rights demonstrations during 1962-1963. She participated in civil rights marches before the bombing of 'the church'. The 16th Street Baptist Church was bombed in September 1963. The bombing killed four young girls – Addie Mae Collins, Carole Robertson, Cynthia Wesley and Denise McNair. 
Juanita was recruited by The Southern Christian Leadership Conference (SCLC) to participate in youth demonstrations. "We had dogs charging at us, and they used firehoses on us", Juanita recalled. Although, Juanita was not a member of 16th Street Baptist Church, she was part of the group of young people that met and planned there. Most of the young adults in the group went to high school together.
"We weren't integrated. There were times when police officers would drive through the neighborhood with their guns hanging out the windows telling everyone to get in the house. The day of the bombing I was in the house. My house shook, we didn't really know what it was. We always heard bombs. It was always a scary moment when we heard that phone rang", Juanita stated. 
Juanita recalled, "They were always bombing the local NAACP/SCLC lawyer's house. He never got hurt, but they bombed his house so many times they call that street that he stayed on 'Dynamite Hill'. 
Juanita shared the January 6th riots were a flashback to her days participating in youth demonstrations. "We didn't know if they would kill us or if they would show up and turn the dogs loose on us. All we could do is run. Once they caught us, they might beat us. You know, it was just crazy. All we wanted to do is just to be treated like human beings, that's it! Nothing special. Just human!" Juanita moved to Michigan in 1969.
Juanita's fighting spirit continues
Juanita has had health problems for quite a while. Her kidney problems began in the 1980's. Being on dialysis was an all-day process. Treatments lasted for hours at a time and for multiple days. "I was there on the machine for 3 1/2 hours to 4 hours every other day. I had a transplant in 2001 and I'm so happy I got it! This year it will be 20 years", Juanita declared!
Juanita has gone through many challenges and obstacles. She is able now able to sit back and reflect on these life moments. Juanita enjoys her new community and friends at The Village of Warren Glenn, and is now healthy, safe and comfortable.
Everyone has a story.
Take the time to connect with an older adult to learn his or her story.