Legacy Living Leads To Legacy Giving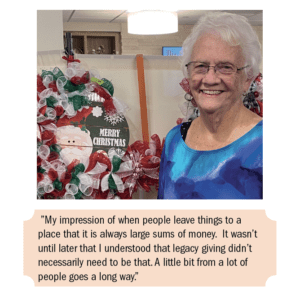 Meet PVM Legacy Society member Elaine Walton. Elaine has lived at the Village of East Harbor (VEH) in Chesterfield Township for 11+ years. She has been active in the Residents' Association and serves on the Village of East Harbor Board of Trustees.
But, her family's legacy at the Village goes back to the very beginning. Elaine's mom, Mildred, moved to VEH in 1978. She was one of the very first residents to call the Village home. Mildred had a wonderful life at VEH for 22 years before her passing in 2000.
In 2012, Elaine followed in her mom's footsteps and made VEH her home. She moved to the community because it offered peace of mind. It's about the security, the support, and the friendships she's made. "Knowing that if I run into any kind of a problem – physical, mental, financial, along the way, there will be support for me from the Village."
In 2016, Elaine joined the PVM Legacy Society when she informed the PVM Foundation that a gift to PVM was included in her Will. Her gift would be a percentage of her estate. Elaine and her late husband wanted to share whatever remained in the estate with their three children, their church, and PVM.
Elaine would like her gift to support the VEH Benevolence Fund. She became aware of the Village's Benevolence Fund because her mom benefited from it. For the first twenty years, Mildred was fine with the limited resources she had. However, when she needed to move to Assisted Living, the costs increased, and her resources depleted. The fund helped support Mildred's needs for the last few months of her life.
Elaine said "knowing that my mom was not going to be asked to leave was a great relief."
Thank you Elaine for leaving a legacy and remembering PVM's Village of East Harbor in your Will.
Will you join Elaine in the PVM Legacy Society? Please consider adding PVM to your Will. Your support will create possibilities for the next generation of older adults.
Have questions? Want to learn more about how you can help secure a brighter future for older adults? Contact Devon Meier, Director of Planned Giving, at 947.247.0995 or dmeier@pvm.org.